Celebrities That Have Successful OnlyFans
Before OnlyFans became the sensation that it is now, it was just another regular social media platform. Launched in 2016, the site did not become popular until sometime in 2020 during the global pandemic. As we know it, the entire world has come under the deadly scourge of the Coronavirus. Countries and cities all over were forced to enact strict lockdown rules. This was OnlyFans' clear shot at the limelight.
Celebrities, entertainers, and models had to find ways to not only keep their fans entertained but earn money at the same time during the lockdown. OnlyFans offered itself as a highly effective remote medium via which they could accomplish that. And it stuck! Within a few months, OnlyFans went from obscurity to global dominance. Now, many A-list celebrities and socialites run very successful OnlyFans profiles from the comfort of their homes or private spaces.
For some, OnlyFans have revamped their careers in more ways than could have been fathomed possible, making millions while at it. So the topic for today is; Celebrities that have successful OnlyFans. Let us look at five of them. Read on…
Cardi B
Award-winning rapper/singer Cardi B joined OnlyFans in August of 2020 in the heat of the COVID-19 pandemic. She is one of the first few A-list celebrities to sign up on the site. From the moment she opened her account, Cardi B hinted to fans that they shouldn't expect any x-rated or nude content from her.
Despite the disappointment, fans still trooped to her page to digest her special offerings. The rapper first started monthly subscriptions to her page at $9.99 but soon brought it down to $4.55. Nowadays, Cardi B uses her OnlyFans profile to show fans certain aspects of her life not covered by mainstream media. She talks about and documents issues in her personal life, relationships, surgeries, family, etc. So far, Cardi B has made more than $8 million in revenue on OnlyFans.
Bella Thorne
Popular actress and celebrity Bella Thorne has found fame and success on OnlyFans. She set the record as being the first user to make over $1 million within the first 24 hours of signing up. The actress subsequently doubled this number by the end of that week. Today, Bella Thorne not only enjoys popularity and success on the site, but she has also stirred some controversy.
Some time ago, she came under scrutiny for offering $200 worth of photographs of herself wearing lingerie, despite her claims of being nude. However, none of these controversies have slowed her page down as fans keep yearning for her photos which are always beautifully shot. Bella Thorne is reportedly earning over $9 million per month on OnlyFans.
Tyga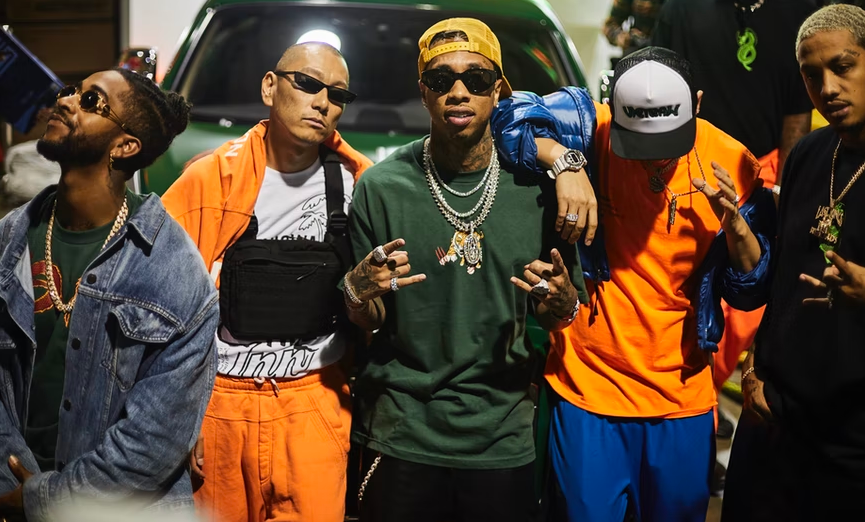 Tyga is a popular rapper and entertainer but known mostly as an ex-boyfriend to reality TV star Kylie Jenner. By joining OnlyFans, Tyga not only doubled up on the fame, but the rapper also quickly became one of the platform's top earners. For a monthly subscription fee of $20, Tyga treated fans to photos and exclusive videos of himself partying with scantily clad to completely nude ladies.
Tyga earned himself a lot of fame as having one of the best nude onlyfans accounts. He only took a break from the platform in mid-2021 to launch a competitor site, Myystar, that offers exclusive sexual content.
Jordyn Wood
Popular socialite and Reality TV star Jordyn Woods launched her OnlyFans profile in October 2020. At no cost, Woods offers her fans free access to her exclusive content. But the reality TV queen earns money from making special pay-for-view content.
Once you subscribe to her channel, Jordyn Woods frequently taunts you with pay-for-view content that she sends as messages to your inbox. If you are interested, she charges you a token to open and view the file.
Jordyn Wood is popular for posting intimate parts of her life, earning thousands of dollars in tips.
Blac Chyna
Blac Chyna is a popular reality TV star, model, and socialite. Her reality TV show Rob & Chyna garnered a lot of fame and fortune, as did her other ventures in the entertainment industry. Not only does Blac Chyna enjoy large followership on Instagram, but she also hit it off on OnlyFans.
The reality TV star charges a subscription fee of $19.99 a month to have access to over 100 exclusive photos and videos of herself that she makes regularly. Blac Chyna is also very active on the platform, regularly interacting with fans and sharing scoops of what to expect in real-time.
You, Too, Can Become Successful On OnlyFans
OnlyFans is not rocket science. Anyone can make it big on there. There are a few tested formulas that have worked with these listed above that you can start implementing also. In time, you can go from a small-time act to commanding a large fan base. It only takes patience, consistency, and perfect timing to make it come together.