Hollywood Undead Biography, Songs, & Albums |
Hollywood Undead is a band that formed in 2005 and has since released six studio albums. The band's sound is a mix of punk rock, hip hop, and metalcore.
Hollywood Undead is an American rock band. The first song that they released was called The Underground. They are best known for their hit single Day of the Dead.
Hollywood Undead come from the streets of Hollywood, California, and their music combines loud hip-hop, rock, and slight metalcore influences with bravado. With their colorful pseudonyms and distinctive hockey goal tender-inspired masks, the band began in 2008 with Swan Songs, but it wasn't until their 2011 second album, American Tragedy, that they found their commercial stride, cracking the Top Ten on the Billboard 200 list. Following that, albums like Notes from the Underground (2013), Five (2017), and the two-volume New Empire (2020) did equally as well, if not better, solidifying the group's status as one of rapcore's top stars.
The group began as J-Dog and Tha Producer's musical endeavor in June 2005, and owes much of their success and exposure to the social networking website MySpace. They soon began amassing song plays and online friends with songs about partying, sex, and emo adolescents after uploading some new music to their page. The "gang," as the men preferred to call themselves, expanded to six members, including J-Dog and Tha Producer, as well as Charlie Scene, Johnny 3 Tears (previously known as the Server), Funny Man, and Da Kurlzz. As the band's online reputation grew, MySpace CEO Tom Anderson wasn't immune, and the band's song "No. 5" was included on the site's first compilation album, as well as earning them the distinction of being the first artist signed to the site's new record label (distributed by Interscope) in 2005.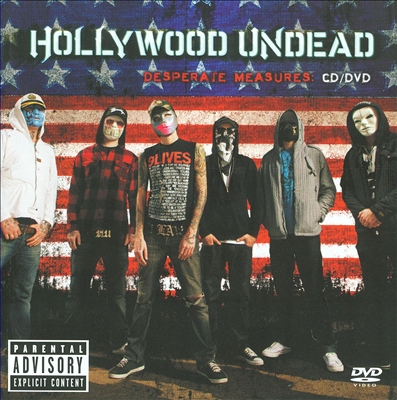 Swan Songs was released by A&M/Octone Records in 2008. Desperate Measures, an album of B-sides, live songs, and covers, was released a year later by the same label. Aron "Deuce" Erlichman departed the band in 2010, and was replaced by Daniel "Danny" Murillo, a former American Idol candidate and lead singer of Lorene Drive. Hollywood Undead released their second album, American Tragedy, in April of 2011, after performances with Avenged Sevenfold on The Nightmare After Christmas Tour. The album debuted in the Top Five of Billboard's Top 200. The following November, A&M/Octone Records released American Tragedy Redux, a remix version of the album featuring Andrew W.K., Borgore, and KMFDM, among others.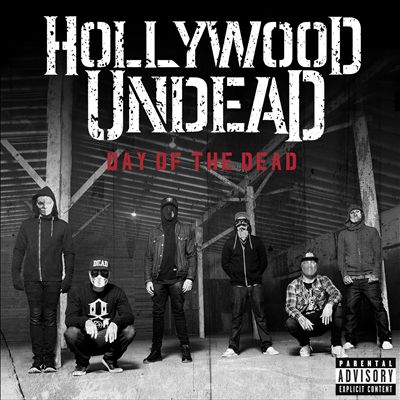 After starting on The Underground Tour in January 2013, Hollywood Undead released Notes from the Underground, their third studio album, which became their highest-charting to date, debuting at number two on the Billboard Top 200 and flying to number one on the Canadian albums chart. Day of the Dead, their much awaited fourth studio album, was released in March 2015, after the songs "Usual Suspects," "Gravity," "How We Roll," and the powerful title track. In late 2016, the band went back into the studio to create Five, their fifth studio album. After their contract with Interscope expired, Hollywood Undead formed their own label, Dove & Grenade Media, to distribute the album in conjunction with BMG. The first single, "California Dreaming," was published in mid-2017, taking a critical look at the disparities between the two sides of Los Angeles society, with the full-length Five following in October. The song "Gotta Let Go," a summery blast of feel-good nostalgia about letting go of sorrow, was released by the Undead in 2018. In the same year, the EP Psalms was released. New Empire, Vol. 1 was the band's sixth album, released two years later. It was heavier than previously, with more electronic components, and it was a conscious effort to alter their sound. In 2020, a similar sequel, New Empire, Vol. 2, was released.
Hollywood Undead is an American rock band that was formed in Los Angeles, California. The group has released four studio albums and two extended plays. Reference: hollywood undead albums.
Related Tags
danny hollywood undead
hollywood undead member dies
charlie scene