Rodgers & Hammerstein Biography, Songs, & Albums |
What are the most famous songs composed by Rodgers & Hammerstein? What is their biography like? The answers to these questions and more can be found below.
The "unvaccinated nfl players" is a topic that has been in the news recently. The NFL has decided to not allow any of their players to be vaccinated for fear of potential side effects.
Richard Rodgers and Oscar Hammerstein II, indelible contributors to the Great American Songbook, were one of the most popular and influential songwriting teams in Broadway history. Before joining together for the pioneering, Pulitzer Prize-winning stage musical Oklahoma!, which premiered on Broadway in 1943, they both had high-profile careers with previous creative collaborators. It helped to establish the "book musical" by putting character-driven songs in the framework of a dramatic, high-stakes narrative, following the model of 1927's Showboat (which included lyrics by Hammerstein). In stark contrast to the operettas, musical revues, and light musical comedies of the previous period, they tackled serious societal problems like racism, classism, and sexism in much of their work, including theatrical classics like South Pacific (1949), The King and I (1951), and The Sound of Music (1965). (1959). These and other successful Rodgers & Hammerstein musicals were transformed into blockbuster Hollywood pictures, thanks to Rodgers' sweeping, unforgettable melodies and Hammerstein's natural but highly organized lyrics (Rodgers would compose music to Hammerstein's text). "My Favorite Things," "Getting to Know You," "Some Enchanted Evening," "You'll Never Walk Alone," and "Edelweiss" are some of their most well-known tunes.
Richard Rodgers performed almost 20 years as half of Rodgers & Hart with Lorenz Hart before teaming forces with Oscar Hammerstein II. A Connecticut Yankee (1927), Babes in Arms (1937), and Pal Joey (1938) were among their numerous Broadway musicals (1940). Among their hundreds of popular tunes were "Blue Moon" and "My Funny Valentine." Meanwhile, Hammerstein had success with composers like as Jerome Kern, who was an acknowledged influence of Rodgers. Kern and Hammerstein's greatest success together was Show Boat, based on the Edna Ferber book, which included contributions from co-lyricist P.G. Wodehouse. Within 10 years, two film versions of Show Boat were released, and the songwriting duo received an Academy Award for "The Last Time I Saw Paris" from the film Lady Be Good in 1941.
Rodgers teamed up with fellow New York City native Hammerstein for the musical Oklahoma! due to Hart's deteriorating health in the early 1940s. Oklahoma! premiered on Broadway's St. James Theatre on March 31, 1943, after the two had previously cooperated as students at Columbia University, notably on the 1920 Varsity Show Fly with Me. The play received a special Pulitzer Prize in 1944 for its five-year run and 2,000 performances (a record at the time). During this period, Rodgers & Hammerstein produced another Broadway success, Carousel, as well as the musical picture State Fair, both of which were released in 1945. "It Might as Well Be Spring," which won the Academy Award for Best Original Song, was featured in Rodgers & Hammerstein's sole film musical, State Fair. It was a Top Ten success that year, as were many of their tunes, with recordings by Dick Haymes, Sammy Kaye, and Paul Weston with Margaret Whiting. Allegro, their lesser-known third stage musical, debuted in October 1947 and closed the following July, in contrast to the box-office success of their first two Broadway productions. Rodgers & Hammerstein appeared with Dean Martin and Jerry Lewis on the inaugural episode of Ed Sullivan's long-running variety program (formerly named Toast of the Town) in June 1948.
South Pacific brought the songwriting duo back to Broadway in 1949. It addressed racial prejudice, most notably in the song "You've Got to Be Carefully Taught," which was based on James Michener's book Tales of the South Pacific. The show won Best Musical, Best Score, Best Libretto, and all four acting categories, making it the first musical to be eligible for Tony Awards since 1947. Rodgers & Hammerstein and South Pacific co-writer Joshua Logan shared the Pulitzer Prize for Drama in 1950.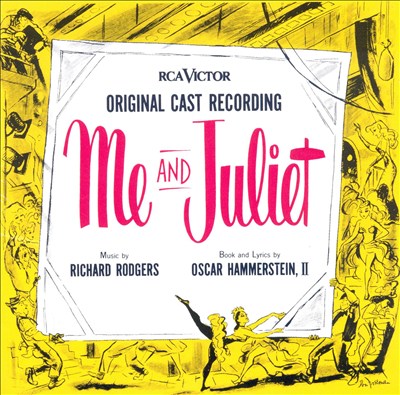 In 1951, The King and I, an adaptation of Margaret Landon's book Anna and the King of Siam, was released, candidly addressing racism as well as misogyny. It won five Tony Awards, including Best Musical and Yul Brynner for Best Featured Actor. They followed it up with Me and Juliet in 1953 and Pipe Dream in 1955, both of which were less successful Broadway musicals. After Oklahoma! was adapted for the big screen in 1955, Brynner reprised his character in The King and I, a 1956 CinemaScope picture that won him an Oscar. In 1956, a cinematic version of Carousel was released.
Rodgers & Hammerstein's Cinderella, their only television musical, premiered on CBS on March 31, 1957, the 14th anniversary of Oklahoma! Julie Andrews was nominated for an Emmy for her performance in the TV special, and Richard Rodgers' music was nominated as well. Rodgers & Hammerstein's Flower Drum Song, a musical with an Asian cast, had its Broadway debut in 1958. It was Gene Kelly's first time directing on stage. South Pacific was adapted into a Hollywood picture starring Rossano Brazzi and Mitzi Gaynor the following year.
The Sound of Music, perhaps Rodgers & Hammerstein's most well-known musical, would be their last collaboration. It premiered on Broadway in 1959 and went on to win five Tony Awards, including Best Musical. It was set against the background of the Austrian Anschluss of 1938. When Oscar Hammerstein died of stomach cancer in August 1960, "Edelweiss" became the team's last song. In 1961, a film adaptation of Flower Drum Song was released, and in March 1965, a film adaptation of The Sound of Music was released. It was the highest-grossing picture of the year, with Julie Andrews as Maria, and won five Academy Awards, including Best Picture.
After 1960, Richard Rodgers continued to write songs and produce musicals, collaborating with Stephen Sondheim (1965's Do I Hear a Waltz?) and Martin Charnin (1970's Two by Two), among others, until his death in 1979. In 1999, Rodgers & Hammerstein were recognized with a postage stamp in the United States, and their songs are still popular in the United States. Broadway revivals of The Sound of Music in 1998, South Pacific in 2008, The King and I in 2015, and Oklahoma! in 2019 are just a few examples of their impact in the theater.